Janos' Case: Paraplegia
Impaired driver causes permanent paralysis from chest to toes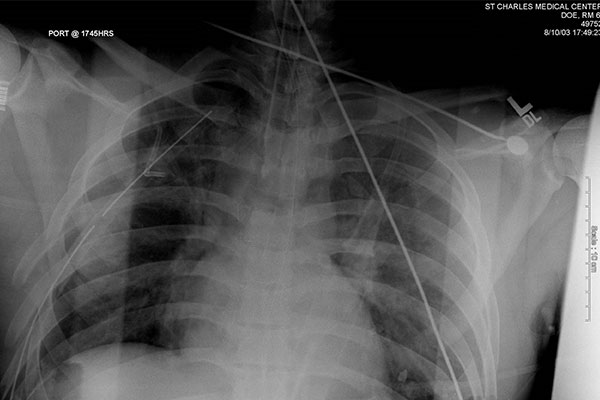 A talented young agricultural engineer was driving on Highway 97 with friends and co-workers after a day of enjoying recreation in Central Oregon when a drunk and impaired driver going the opposite direction crossed the centerline and crashed into them, head-on.  Everyone in the car was injured.
The ambulance crew put the young engineer on a long backboard with a cervical collar restraint. When he reached the hospital, the emergency room physician and staff were informed that he had been injured in a head-on accident and had to be extricated from his car.  In the hospital that day, the young man moved both legs, and both of his lower extremities were neurovascularly intact. A chest x-ray and chest CT scans showed that he had a thoracic spine injury, which meant that he was at risk of spinal cord injury if not properly treated. Unfortunately, he was taken off the long backboard and the cervical collar and then taken to the operating room for surgery on his leg.  During that surgery, with his back unprotected, he was moved repeatedly in ways that allowed the spinal cord to be damaged.
The next day, he began losing movement in both his legs. A neurosurgeon was finally called and documented a complete spinal cord injury with no movement or sensation in the legs. The evidence that later came to light showed that the hospital had not followed standard procedures, including:
Failing to diagnose a thoracic injury with risk of spinal cord damage after the chest x-ray and CT scans clearly showed the injury;
Failing to promptly obtain a neurosurgeon evaluation;
Failing to have a general surgeon available and present directing the trauma team through the vital phases of resuscitation;
Failing to maintain adequate resources to care for all trauma patients presented to the hospital;
Choosing to clear the spine and failing to continue preventative measures to avoid having sufficient damage to the spinal cord to cause paralysis injury (paraplegia); and
Failing to have hospital systems and procedures in place to assure appropriate management and care of multiple trauma patients.
A spinal cord injury with paralysis from the chest level down is known as paraplegia.  Persons with this medical condition have use of their arms, but do not have muscle control or normal sensation below the level of the injury to the spinal cord.  People with paraplegia need specialized medical equipment and devices, and life-long medical care. They are at risk for additional medical problems as a result of their paraplegia, and if they are not properly cared for, they may not live their full normal life span. 
The young engineer's case highlights that sometimes more than one factor can contribute to an injury or other harm.  Oregon juries are routinely told that "Many factors may operate either independently or together to cause harm. In such a case, each may be a cause of the harm even though the others by themselves would have been sufficient to cause the same harm." (This language is from Oregon Uniform Civil Jury Instruction 23.02).
This case was aggressively defended, but eventually settled for an amount that allowed the young engineer to receive the expensive special care and services needed to live a productive life.  While he is no longer able to personally do all of the field engineering work he could do before the injuries, he trained other people to assist him so that he could continue to perform engineering services both here and in Europe.
Review from Janos:
"On August 10th, 2003, just four days after my 28th birthday, my life was permanently altered by a reckless and violent, drug-induced, drunk driver who crashed head-on and into my car. Everyone in the vehicle was injured, with my injuries being the most severe. I suffered a complete spinal cord injury, which changed everything in my life in an instant. Nearly 17 years later, I remain paralyzed from the chest down, and on that day, I not only lost my ability to walk but my ability to do the field engineer work I once loved so much.
In these unpredictable and devastating moments in life, it is essential to surround yourself with people you can trust. My physical rehabilitation was a long road, and as if that wasn't hard enough, I also had to figure out how I was going to support myself financially. As someone who worked in a physically demanding job, with a lot of international travel, I had no idea how to move forward with my life or what I would be capable of achieving in the future.
I can honestly say, I feel so fortunate to have had the legal guidance of Don Carson. Don not only professionally represented me, but he was relentless in settling an agreement that would help assist me financially. He put his heart and soul into helping me achieve the best outcome and, in many ways, offered tremendous emotional support that went way beyond his call to a legal duty. My reliance upon him, both professionally and emotionally, should not be understated. With his expertise, I was able to receive a financial settlement for my lifelong medical bills as well as a path forward to make a living and successfully support myself. Don is not only a brilliant lawyer; he is honest and trustworthy and committed to doing the best for his clients, even in the most challenging circumstances. With Don at the helm, you will not only have the most capable legal guidance but someone who cares about your overall well-being. I give him my highest recommendation."
If you would like to speak with a member of our legal team, please call us at 541-484-2525 or contact us using the form. There is no charge for this initial consultation. We offer Free Virtual Consultations using Zoom. Please fill out the contact form to request an initial consultation.
Please keep in mind that we can only help a limited number of people at one time, and that we try to focus on serious cases where we think we might be able to make a meaningful difference in a person's life. We will promptly follow-up and be in contact with you.
Or give us a call or text message