Top 5 Signs of Nursing Home Abuse and Neglect-
What To Look Out For
Families put their trust in nursing homes to care for their loved ones.  Unfortunately, nursing homes don't always provide the services and safe environment that residents deserve and families expect. Abuse is not uncommon.
According to the Centers for Disease Control and Prevention (CDC), approximately one out of every 10 elders have been abused. Abuse includes:
Physical abuse
Sexual abuse
Emotional abuse
Neglect
Abandonment
Financial abuse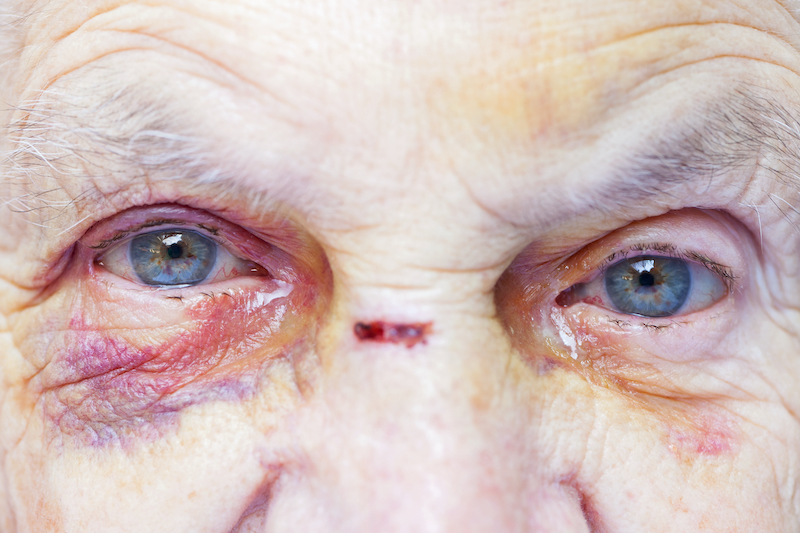 Abuse can happen when facility staff withhold medications, fail to plan for or implement fall protections, fail to report health changes to physicians, physically or sexually assault residents, and fail to protect and care for residents in others ways.  Abuse can occur when other residents are allowed to wander unsupervised into the rooms of other residents.  These problems arise when facilities fail to properly screen potential employees, and fail to properly train and supervise the employees they hire. Oftentimes, facilities are intentionally understaffed, saving money for the nursing home but resulting in staff who are overworked, underpaid, and lack the time to provide the essential care that residents need.   It is vital that family members of those in nursing homes be able to recognize the signs of abuse so they can take action to protect the ones they love.
Here are five of the more common signs of possible abuse to watch out for if your loved one is in a nursing home.
1. Unexplained injuries or bruising
Physical abuse will often reveal itself through unexplained injuries such as skin tears, bruising, cuts, and more. While it is not uncommon for an elderly person to bruise easily, when it becomes a pattern, it could be a sign of abuse. Ask about how the injuries have occurred, and be wary of any answers that do not make sense. Ask whether there was an investigation and whether the injuries were reported to the State.
2. Sudden changes in mood or behavior
You know your loved one better than anyone, so if there are any sudden changes in their behavior, you will likely notice. If your loved one shows signs of anxiety, fear, embarrassment, agitation, depression, or anger, it could be a sign that abuse has occurred. Even if there are no physical signs of abuse, sudden changes in emotional state can be important clues.  If a loved one has dementia, there is a risk their family may dismiss accurate reports by them that someone is wandering into their room, or they have been assaulted, or they are being mistreated.  Listen, and ask questions of the staff.
3. Malnutrition or dehydration
When nursing home staff neglect the basic needs of residents, there could be signs of deterioration. This could include changes in weight and overall health of your loved one. Some of the most common signs of neglect can include dry mouth, reduced urination, cracked and dry lips, and weight loss.
4. Poor hygiene or sanitation
If you visit your loved one in the nursing home and notice that the room is dirty, or that the bedding or clothes are soiled, this is a sign of neglect or abuse. Ask yourself, has your love one's adult diaper been changed? Have they worn the same clothes days in a row? Have they been showered? Ask to see a shower schedule. A pressure sore should virtually never happen with proper care; it is almost always the result of neglect.
5. Changes in finances or property
Financial exploitation of the elderly is becoming more common. Some of the most common signs of elder abuse include unpaid bills, unusual changes in power of attorney or other documents, unnecessary purchases or subscriptions, and more. In a facility it may involve charges for such things as hair appointments that do not occur, or missing property such as wedding rings.
Report Suspected Abuse or Neglect
If you suspect or witness abuse or neglect, call Oregon's statewide toll-free reporting hotline at 1-855-503-SAFE (7233).  You can also report abuse or neglect to the Department of Human Services office in your area (local branch offices of the State of Oregon's Senior and People with Disabilities Department).  When you call, you may be asked:
Details about the person you are concerned about, such as age, where they live, and their current level of functioning;
A description of the problem or the situation you feel is inadequate, abusive, or neglectful;
Information about other people or witnesses an investigator may want to speak with who may have direct information about the problem;
Whether or not the person is in immediate danger or risk of harm; and
How to get back to you if additional information is later needed.
Contact an attorney as soon as possible
If you suspect a loved one has been abused in a nursing home, please seek legal assistance today. At The Corson & Johnson Law Firm, our qualified and experienced team is ready to investigate in order to ensure your loved one is fairly compensated for what has happened, or in the event your loved one has died as a result, to hold the facility accountable for your loved one's death.  Cases for one person or family help to prevent others from suffering from the same abuse or neglect. Cases can seek to recover for:
Medical expenses related to the abuse
Physical pain and mental suffering of the resident
Loss of enjoyment of life
Relocation expenses
Possible punitive damages against the abusers or facility
A family's losses of companionship and society if a loved one is killed by abuse or neglect
Survivors of abuse or neglect often do not report the misconduct themselves, either due to fear of retaliation from their care provider or because of their diminished abilities. Your loved ones may not volunteer to you their experiences and concerns. This is why you should look for signs of abuse, ask questions, and involve authorities if you have continued concerns.  When you need an Oregon nursing home abuse attorney, please contact us so we can get to work on your case right away.
Read Lara Johnson's Client and Attorney Testimonials

If you would like to speak with a member of our legal team, please call us at 541-484-2525 or contact us using the form. There is no charge for this initial consultation. We offer Free Virtual Consultations using Zoom. Please fill out the contact form to request an initial consultation.
Please keep in mind that we can only help a limited number of people at one time, and that we try to focus on serious cases where we think we might be able to make a meaningful difference in a person's life. We will promptly follow-up and be in contact with you.
Or give us a call or text message